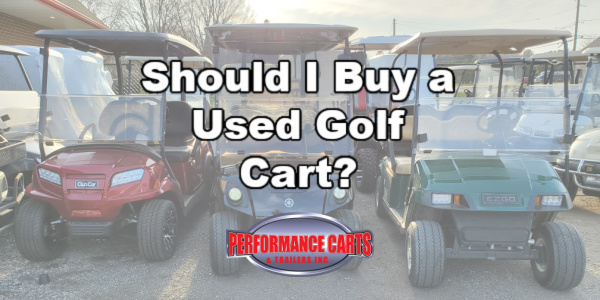 Buying A Used Golf Cart
Should I Buy a Used Golf Cart?
The answer to this question is not an easy one. The decision to buy either a new golf cart or a used golf cart is more complex than going with heads or tails – best 2 out of 3… or 4 of 7, or 50 of 99 (depending on what answer you're looking for!!).
The advantages of buying a new golf cart are obvious, but the first thing to consider when buying new OR used is…
Where Do You Buy a Used Golf Cart?
Let's be honest. When trying to buy a used anything can be fraught with sketchy experiences, out-of-whack pricing and products that are more pig than lipstick. When buying a used golf cart (or new for that matter), it is always better to deal with a reputable dealer – such as Performance Carts!
Buying from a dealer will offer you a more holistic purchase. By that, we mean that you can see how they operate, how professional they are, what customer reviews say about them; along with side-by-side comparable carts to help you make the very best decision for your hard-earned money.
Performance Carts has a proven reputation of top-shelf customer service, not to mention selection, of both new and used golf carts.  To top that off, they are Ontario's premier provider of golf carts parts and accessories, as well as a plethora of golf cart customization options, for a wide range of carts manufacturers and models – including, but not limited to EZGO and Club Car (check out our new EZGO golf cart inventory or our Club Car inventory here). 
Another consideration to buying used from a dealer, is that they may know the cart's background and be able to provide you with future maintenance insight as well as a reputable place in which to get either seasonal maintenance done, or a trustworthy place if your golf cart repair needs are impactful.
Good As New Refurbished Golf Carts
Again, it comes back to where you buy your used golf cart. A proven dealer, such as Performance Carts, have the staff and facilities to properly refurbish used golf carts and get them into top shape before even offering them for sale to you. A properly refurbished golf cart can provide you with an 'almost new' experience due and a cart that you can count on lasting for many years of service.
Get a Deal on a Used Golf Cart
Golf carts today are so much more than they were years ago. There are numerous options – not only creature-comfort, but with the popularity of these rides over the past number of years, the sheer number of used golf carts available are on the rise.
With this bring the opportunity to compare pricing between comparable models and find a price that fits your exact budget. You may even find used carts with a variety of custom accessories that fit your needs/taste and with that, you'll be able to buy those aftermarket golf cart accessories for a fraction of the price the original purchaser paid for them.
Buys You Time to Get THE Exact Cart You Want
If you are unsure of what golf cart you should be buying, yet you know you want/need one, buying a used golf cart will give you insight into what you truly require from your golf cart. Obviously, the cash outlay of a used cart will be less than a new one, so if you buy used and take a year or two to find out what you didn't know previously about carts in general or what you need, the cost to trade up to a new cart will be minimal.
A secondary benefit is that you'll be able to learn about 'New' models that came out a year or two ago and see if they stand up. Letting others be the 'guinea pigs' for new models, allows other to find defects and get them ironed out before you put down your hard-earned money.
Cost Savings
This one is obvious – the cost of a used cart is less than a new golf cart. With the purchase of other items, such as cars, buying new offers the opportunity to get access to tremendous financing rates, while buying used, the rates tend to be much higher – mitigating the advantage of the lower sticker price.
With buying a used golf cart from Performance Carts, financing your used golf cart can be a breeze and will still help you fit in a payment that fits your finance requirements. (all financing based on proper approvals and will be subject to financing limitations at the time)
Proper Maintenance/Repair of Your Used Golf Cart
Typically, the purchase of a used golf cart won't come with a warranty – with zero chance of that happening when you don't purchase through a dealer, such as Performance Carts. Due to that fact, teaming up with dealer who will help you maintain your investment can be critical in order to help you maximize your used cart's usage, cost of ownership and longevity.
Whether you are ready now to pull the trigger on a golf cart purchase or are still contemplating which cart to buy, Performance Carts is here to answer all your questions so that you'll end up pleased with your purchase – both now and in the future.